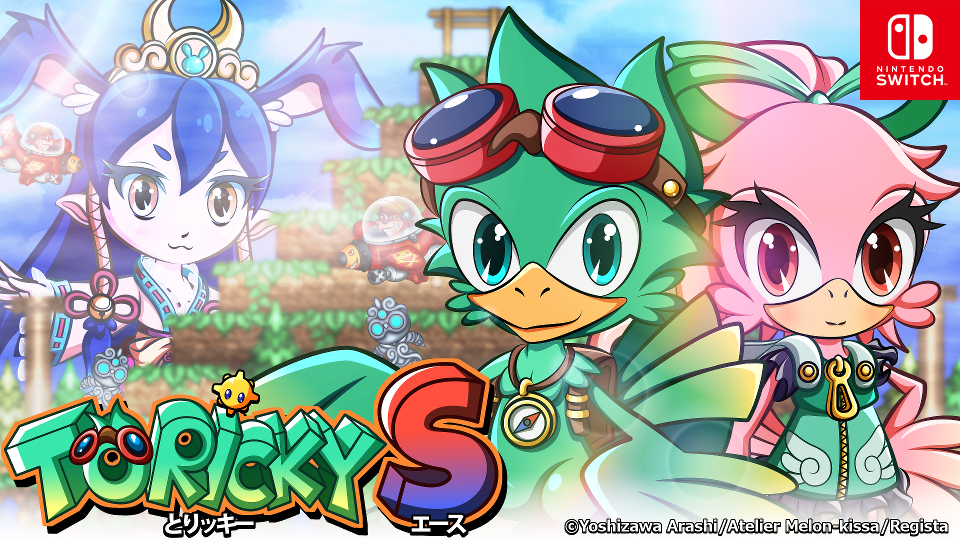 We are announcing today in collaboration with our publisher Regista,
that the aerial action-adventure game TORICKY
is coming on Nintendo Switch™ in a Power-Upped version!


Release Date: July 2nd, Pre-Load starts today!
Trailer:

What is TORICKY-S?
You are the green adventurer bird Toricky!
You will freely explore the land, sea, and air in 360°
to gather the mysterious "Crystars" robbed by the "Pigrates" pirate gang
in this 2D Action-Adventure Game!
Characters
Toricky and his friends are all here with a whole new design!
Sorano Toricky


Toricky the green adventurer bird is this game's hero!
He is on a journey with his friend Momo to find hidden treasures.


Mutsumi Momo


Momo the pink bird adventurer is always watching
that Toricky does not do something stupid.
You can count on her to pilot the HouseCopter!


Tsukimikado Kaguya


Kaguya is the master of the Crystar Palace
and the Princess of the Moon!
Toricky will have to collaborate with her
to save the mysterious beings called "Crystars".

And other colorful characters are awaiting you in your quest!
Story
Toricky the adventurer and his friend Momo were on a journey to find hidden treasures,
when a mysterious voice asked them to save the "Crystar Palace".
Immediately after, they are attacked by the "Pigrates" pirate gang,
causing them to crash-land with their HouseCopter!

Near the place they crash-landed, they save a mysterious being called "Crystar"
who request them to save his friends. It seems they have been scattered everywhere!

Unable to refuse the call of the adventure,
Toricky will go through the Dimensional Gates set-up in the "Crystar Palace"
to save the "Crystars" spread everywhere in a brand new world.
But that's without knowing what is going on behind the scenes…

Additional Contents
This renewed adventure for the Nintendo Switch is featuring
about two times the number of Crystars contained in the previous version!

And new functions like a "List of collectible Crystars" you can consult anytime
when exploring a stage, or a "Teleportation system between the CheckPoints"
will make your quest a lot more comfortable!
ScreenShots